Two Men Accused of Real Life "Weekend at Bernie's"
In 1989 a quirky comedy called "Weekend at Bernie's" was quick to give audiences a cheap laugh. The movie centers around two likeable idiots whose boss has been murdered. Instead of alerting authorities, the bumbling idiots spend the weekend carrying around their dead boss, pretending that he is still alive and kicking.
Fast forward to 2011 where a pair of real life idiots have tried to pull off the same stunt with one of their friends. Robert Young was struggling financially when his old college friend Jefferey Jarret invited him to come to Denver and stay with him for a while. Young accepted the invite and arrived in Denver on the night of August 27th.
When Young arrived at Jarret's residence he found Jarret unresponsive. Instead of making the common sense decision to call 911 he took Jarret to a restaurant where Mark Rubinson was working. That is when the two decided to embark on the real life version of the movie.
Young and Rubinson placed Jarret's body in the back of their car and took off to hit up multiple restaurants and bars with their buddy in tow. After their wine and merriment at many Denver hotspots including Teddy T's Bar and Grill and Sam's No. 3 the two drove back to Jarret's home to drop off his lifeless body. Job done they headed back out for more good times.
Before leaving for more partying they made sure to grab Jarret's bank card. The two ended up at a Denver area strip club called Shot Gun Willies where they finished out their night. After leaving the club around 4 a.m. they caught the attention of a police officer and informed them that their friend was at his house and could possibly be dead.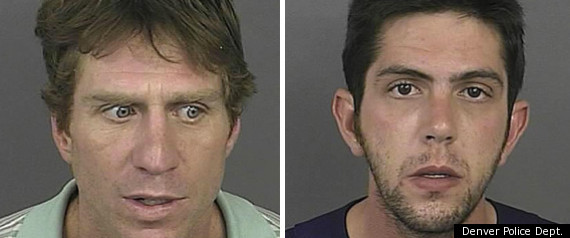 As of yet no one knows how Jeffrey Jarret died but Young and Rubinson are not being charged with his death. The two are however are being charged with abuse of a corpse, identity theft, and criminal impersonation for their antics. Young and Rubinson are currently out on Bond.
Tags:
Denver
,
Mark Rubinson
,
Robert Young
,
Weekend at Bernies
,
Weird News